Find election related information based on your home address. This information includes the location of your voting place, the candidates that will appear on your ballot, and your elected officials and how to contact them.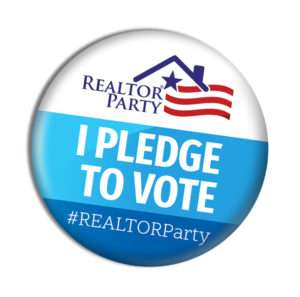 The Voice for Real Estate
The Voice for Real Estate is NAR's video news series. Every month, host Stephen Gasque shines a spotlight on a range of topics, including legislative, regulatory, and legal updates, as well as recent research findings.
Broker Involvement Program & Grant
Broker-owners can use this turnkey program to rally agents to bring REALTOR® Party issues to the attention of state legislatures and Congress. Enrolled broker owners/managers are able to automatically send company-branded national and state Calls for Action directly to their agents. This increases participation rates, while emphasizing the broker-owner's leadership role as a key provider of important information to their agents.
To learn more, click here.
The REALTORS® Political Action Committee (RPAC) is the backbone of REALTORS® in Washington, D.C. Nationwide; RPAC represents nearly one million politically active REALTORS® and here in Maine, RPAC represents nearly 5,400 Realtors® across the State.
RPAC is the only political group in the country organized for REALTORS®, run by REALTORS® and exists solely to further issues important to REALTORS®. Because of the combined strength of our members who contribute, through the Maine RPAC we have achieved many legislative and regulatory successes.
If REALTORS® do not speak out, get involved and help shape the discussion, someone else will. No one knows a Maine community better than a Maine REALTOR®. REALTORS® know the lay of the land, the families, the best schools, the neighborhoods and the leaders of any given area. Maine REALTORS® are on the front line as defenders of real estate issues.
To invest in MARPAC, please contact Suzanne Guild.